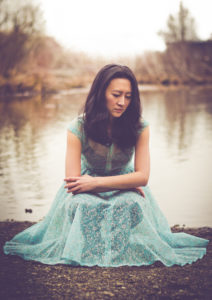 Brenda Xu's music has been described as "treading the delicate line between washed-out ambient tones and carefully crafted acoustic arrangements." Her blend of folk, orchestral, and ambient elements are reminiscent of Bon Iver and Cat Power, but has a distinctive voice which emerged on her last album, "For The Winter." Since its release in 2014, the album has led to several cross-continental tours in the U.S. & Europe, as well as song placements on MTV & Nickelodeon. Her new album, "Overflow" was added to tastemaker radio station, KEXP's rotation, and has been receiving airplay and press coverage in countries all over the world. She has recently opened shows for Lisa Loeb, Joan Osborne, Laura Veirs, and Josh Rouse.
Overflow press release:
Overflow is Brenda Xu's new album and builds on the unique sonic landscape that she created on her last album with more complex song structures and musical arrangements.
"The thread that runs through all the songs is an overflow of emotion that we feel from daily life — from the drudgery of simple routines to the more intense moments that challenge our willpower and sanity," said Xu. "It gets to be too much sometimes and we need a release. But along with longing and desperation, there is also a strength and power which resonates through these intense emotions. I hope that the album takes the listener on an emotional journey, with many glimpses of hope along the way."
Xu, whose last album was described as "beautiful music that can calm the most savage beast" (Frontloader), has been building a steady following since her arrival on the Seattle music scene a few years ago. The momentum she created with the release of her last album, "For the Winter," in 2014 has led to two successful western U.S. tours and a feature in the MTV show "Awkward." Compared to artists such as Daughter, Bon Iver, and Aimee Mann, her sound has been described as "treading the delicate line between washed-out ambient tones and carefully crafted acoustic arrangements."